It is an assembly kit of an electric RC car that reproduces the trailer head of Mercedes-Benz, Actros MP4, which participates in the racing track race that is gaining popularity in Europe. The cabin and front bumper are divided into three parts, and the lower part of the car body is made of polycarbonate. Many sponsor logos are available as stickers. The chassis uses the shaft drive 4WD TT-01E, which has excellent maneuverability and maintainability.
● The chassis is a vertical motor / shaft drive 4WD TT-01 TYPE-E that is easy to assemble and easy to maintain. ● A high chassis equipped with a glass fiber reinforced nylon resin upper deck and gear cover on the bathtub type main frame. Rigidity is provided. ● Steering is a 3-split type with little play and smooth movement. ● Low center of gravity, well-balanced body configuration and double wishbone 4-wheel independent suspension. ● Controller with front and rear differential gears Demonstrates bullish maneuvering characteristics. ● The plated wheels that realistically reproduce the bolt shape are equipped with radial tires with an outer diameter of 70 mm. Both are specially designed for racing trucks, and the high-height tires have mild cornering performance. ● It is possible to improve the performance by incorporating a wide variety of optional parts (sold separately) for the TT-01 TYPE-E.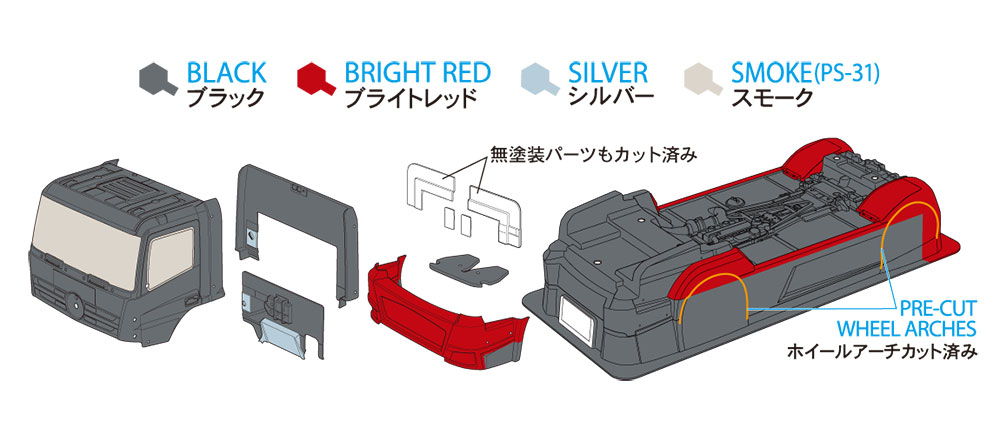 ■ Painted / cut body
Polycarbonate body parts are painted / cut as shown in the illustration, and holes such as body catches have been made.