A Leading U.S. Tractor Truck
The Cascadia Evolution is an aerodynamically advanced and more fuel efficient version of the Cascadia tractor manufactured by Freightliner Trucks, a leading manufacturer in the North American market. The model's ladder frame chassis features aluminum side channels with resin cross members and is equipped with a highly realistic suspension utilizing metal leaf springs and friction dampers. The model is powered by the two rear wheel axles, which are fitted with built-in differentials to enable smooth cornering. Of course, the sleek aerodynamics of the truck are accurately captured. A 4-channel R/C system and multi-function unit allow you to drive the vehicle and experience realistic lights, sounds and vibrations. Connect the model to a separately sold semi-trailer to push it over a meter in length!
| | | | | |
| --- | --- | --- | --- | --- |
| The MFC-01 unit includes LEDs to recreate controllable blue-tinged HID headlights. | | The interior has been authentically captured, featuring details such as dashboard and seats. | | Taillights, turn signals and brake lights all look just like the real thing and accompany truck movement. |

Use the coupler to attach any of Tamiya's 1/14 scale trailers, and listen out for the different engine sound.

Highly realistic suspension utilizes metal leaf springs and friction dampers. Rear axles are fitted with differential gears.

R/C units and battery pack are installed inside the cabin. Cabin hatch is openable to ensure easy battery pack replacement.
※Click to see the closed cabin hatch.
■The 72-inch raised-roof sleeper cab is realistically reproduced.

■Change the 3-speed transmission at will as you drive. It's just like driving the real thing!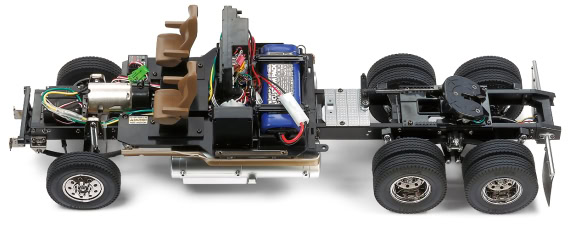 Realistic Lights, Sounds, and Vibration
Multi-Function Control Unit (MFC-01) (included for Japanese market only) offers light, sound, and vibration operation to accompany your R/C truck experience. Engine sounds have been digitally recorded from the actual truck, and together with air horn, gear shifting, and many other realistic sounds, give you the feeling that you are driving the real thing! Headlights, brake lights, fog lamp, hazard lights and turn signal operations are also at your fingertips.

| | | | | |
| --- | --- | --- | --- | --- |
| Headlights | Fog lamp | Roof lamp | Taillights | Turn signals |
| Hazard lights | Speed indicator | Reverse light | Auxiliary lamp | |

| | | | | |
| --- | --- | --- | --- | --- |
| Alarm 1 | Alarm 2 | Engine starter | Idling | Air dryer |
| Revving | Running without trailer | Running with trailer | Coupler attachment | Coupler detachment |
| Down-shifting | Up-shifting | Air discharging 1 | Air discharging 2 | Exhaust brake |
| Brake | Short honk | Continuous honk | Turn signal 1 | Turn signal 2 |
| Hazard lamp | Reverse alarm | Parking brake | Engine stop | |

| | | |
| --- | --- | --- |
| Engine start/stop switching | Horn/support leg switching | Light on/off switching |
| Turn signal/Hazard lamp switching | Running/revving switching | |
※The above is a full list of functions that the MFC-01 is capable of. Some functions may not be compatible with the Freightliner Cascadia Evolution.
Specifications
●Length: 648mm, Width: 195mm, Height: 308mm, Weight: Approx. 3.8kg ●Wheelbase: 373mm+103mm ●Tread: 156mm (Front), 138mm (Rear, Double Tire) ●Chassis: Aluminum & Polycarbonate Resin Ladder Frame ●Suspension: Front/Rear Leaf Springs ●Caster Angle (Front/Rear): 0°/0° ●Camber Angle (Front/Rear): 0°/0° ●Toe Angle (Front/Rear): 0°/0° ●Dampers: Front/Rear Aluminum Friction Dampers ●Drivetrain: Rear 2-Axle Drive  ●Transmission: 3-Gear Transmission (gear shifting operated from transmitter) ●Gear Ratio: (1st Gear) 32.49:1, (2nd Gear) 17.76:1, (3rd Gear) 10.66:1 ●Diff Gear: 3-Bevel Diff. ●Motor: Type 540 ●Tire Width: 22mm (Front/Rear) ●Tire Diameter: 83mm (Front/Rear) ●Included Items (Japan only): 4-channel transmitter & receiver, MFC-01, 2 servos, 7.2V battery pack & charger ●Requires four R6/AA/UM3 batteries for transmitter (sold separately)
6 Types of Semi-Trailer Separately Available
Six types of trailer including semi-trailer, tank-trailer, and pole-trailer, are currently available. Attach any one of them via the coupler on the Freightliner Cascadia Evolution model to create an exciting combination over a meter in length.